SPRINGS TOWERS 901 3BR in NO. MYRTLE BEACH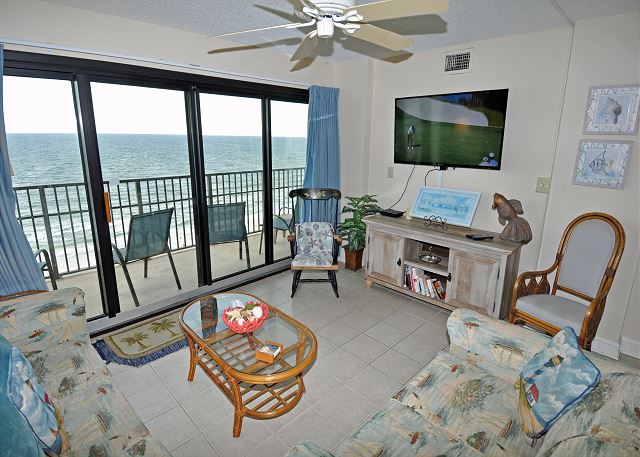 Long-term Renters Welcome
Springs Towers has been a favorite for vacationers to the Cherry Grove section of North Myrtle Beach for years... the property is a boutique style 54 unit property on the oceanfront with 2 elevators, fitness room, sauna, indoor jacuzzi, outdoor pool and jacuzzi. The property has a private board walk that walks you out over the dunes and onto the beach. There are grills and picnic tables and great beachside ambience. Springs Towers 901 was gutted and completly renovated in 2011... all new kitchen cabinets, granite, vanities, paint, tile, carpet. and furnishings.

Cherry Grove itself has been a family destination since the 1930s when a day at the beach meant coming to one of the several bath houses that offered shelter and showers from the sun.... it was not until the 40s that you started to see motels to arrise.... there had been beach cottages in other nearby areas since the 1920s.

Amenities include FREE WiFi, 4 TVs including a big screen TV in the living room with DVD, a TV in all bedrooms. The unit is on the 9rd floor north side corner oceanfront (end) unit.

The appeal of the unit and the property is that it is just a block south of main street. Cherry Grove, walking distance to Boulineaus (IGA), ice cream shops, pizza joints, The Shack Duffy Street Crab Shack and miniature golf and arcades. Just a littly further up the road in the Ocean Drive Section of North Myrtle Beach (2 miles away) is the Ocean Drive Amusement Park and Pavillion! It is the only oceanfront amusement in the Myrtle Beach area..... it is very retro and feels like you have gone back in time to the 60's and not to forget the many Shag clubs playing 50's beach music and an ice cold beer! Main Street in OD is alive with shops for jewelery, clothing, beachwear, home decor and many other venues.

Come on down to the beach and get your Cherry Grove on today.

Unit rating Well Maintained, Comfortable & Appealing

What's fun to do at Cherry Grove Beach:

* Pier fishing from the famous 985 foot Cherry Grove Pier, home to record catches. Bait, tackle, rods rentals are available at the pier shop. All day pass is $1.50

* Dine in one of Cherry Groves waterfront or marsh front restaurants

* Bicycling and stroller walking.

* Kayaking

* Jogging, walking, shells collecting, and my favorite, photographing seagulls

* Shopping at Boulineaus, Banana Boat rides, Parasailing on the oceanfront at 23rd Avenue

(This property does not allow boats, trailers nor motorcycles. You may ONLY have parking permits for up to 2 vehicles. Also pets are not allowed nor is the discharge of fireworks from the property, nor is the use of laser pointers.) Towing is strictly enforced on this property and they tow without notice so please make sure parking permits are displayed! If you loose one during business hours please pick up a spare at our office. After hours you must get a permit from the onsite security or maintenance people.) UNIT DOES NOT ALLOW SMOKING AND IS DESIGNATED A NON-SMOKING UNIT. This unit has a minimum age requirement of 25 years of age and the booking is to a group of individuals then all persons in a group have to be over the age of 25 years. This does not apply to mother and fathers with children albeit in those cases the parents must be over the age of 25. Rental Agreement is required!
Carolina Resorts Realty
1021 Sea Mountain Highway # A1 | North Myrtle Beach, South Carolina 29582
ph: 843-249-6509    fax: 843-249-5034